Wichita DUI Lawyers
Award-Winning Defense in Sedgwick County & South Central Kansas
Few feelings are worse than seeing those red and blue lights flashing in your rear view mirror. In an instant, you could be hauled off to jail, lose your driving privileges, and face criminal penalties including jail.
No matter how hopeless your situation may seem, it helps to have assistance from a Wichita DUI lawyer you can trust. With over 80 combined years of legal experience, the team at Hulnick, Stang, Gering & Leavitt stands ready to serve you. As a Martindale-Hubbell® AV Preeminent® Rated Criminal Defense Law Firm, we understand how to protect your future.
Get started on your defense today by dialing (316) 665-7227 or contacting Hulnick, Stang, Gering & Leavitt online. Schedule a free consultation with our skilled DUI lawyer in Wichita, KS.
Board Certified by the National College for DUI Defense
At Hulnick, Stang, Gering & Leavitt, we understand DUI. Our team has spent decades helping clients protect their rights through careful preparation and strategy.
While most law enforcement officers try to do the right thing when checking for impaired driving, they are prone to bias and mistakes that, left unchecked, could devastate your future.
Our firm can help you defend yourself through many different methods, such as showing:
The police officer made an illegal traffic stop and should not have arrested you in the first place
The field-testing was not properly conducted
You were forced to drive while impaired, whether out of duress or entrapment
Your blood alcohol content was not at an illegal level at the time you were driving
Law enforcement did not have sufficient grounds to request testing
You should call our firm right away to ensure your attorney has adequate time to prepare, and that your case is properly handled.
Can You Refuse a Breathalyzer in Kansas?
In Kansas, it is a criminal offense to refuse the breathalyzer, and that offense carried up to six months in jail, fines up to $1,000, and the exact same one year driver's license suspension someone convicted of drunk driving would receive. Most states have an implied consent law, meaning if you accept a driver's license in the state and operate a motor vehicle, you automatically agree to submit to breath or blood tests if an officer of the law suspects you of drunk driving.
What is Kansas' Open Container Law?
Kansas state law prohibits open containers of alcohol outside of private buildings and licensed alcohol sellers. Open containers are further prohibited inside motor vehicles. It is forbidden to transport an open container of alcohol in any vehicle on either a highway or street. If the alcohol is in the original and unopened container, it is permitted inside a vehicle. It is also permitted to keep alcohol in the locked trunk of the vehicle, or, if the vehicle does not have a truck, behind the farthest seat in the area not occupied by the driver. It is also permitted to carry alcohol in a recreational vehicle, such as a limousine.
What are the Penalties for DUI in Kansas?
Following is a list of the DUI penalties in Kansas:
DUI first offense- A first offense may result in a fine up to $1,000, 48 hours minimum imprisonment, mandatory alcohol assessment and treatment, and 30-day drivers license suspension
DUI second offense- A second offense may result in a fine up to $1,500, 90 day minimum imprisonment, mandatory alcohol assessment and treatment, and a 1 year drivers license suspension
DUI third and fourth offense- A third and fourth offense are considered felonies and may result in a fine up to $2,500, 90 day minimum imprisonment, mandatory alcohol assessment and treatment, and a 1 year drivers license suspension
Is a DUI a Felony in Kansas?
In the state of Kansas, there are certain situations in which driving under the influence (DUI) may be considered a felony. An individual's first and second DUI offense will be treated as a misdemeanor, while their third and fourth DUI offense will be charged as felonies.
Can You Get a Diversion For a DUI in Kansas?
For your first DUI charge, an option called diversion may be available to the defendant. Granting diversion to a defendant is within the prosecutor's discretion, except that diversion is not available for a defendant involved in an accident that caused injury to anyone, including the defendant. A prosecutor may deny diversion for a defendant who has any prior conviction or diversion or high-level test results, as well as a driver who demonstrated aggressive behavior toward the arresting officer. In a diversion, the defendant stipulates to guilt but is not formally convicted. Under an agreement between the defendant and prosecutor, the defendant accepts responsibility for the violation and agrees not to consume alcohol or violate any laws for a year.
DUI License Suspension Chart
This is the chart that the Kansas Department of Revenue uses to calculate suspensions driving privileges in DUI Cases. To see what suspension you may be facing, review the chart below and call our firm today to discuss your case with an experienced attorney.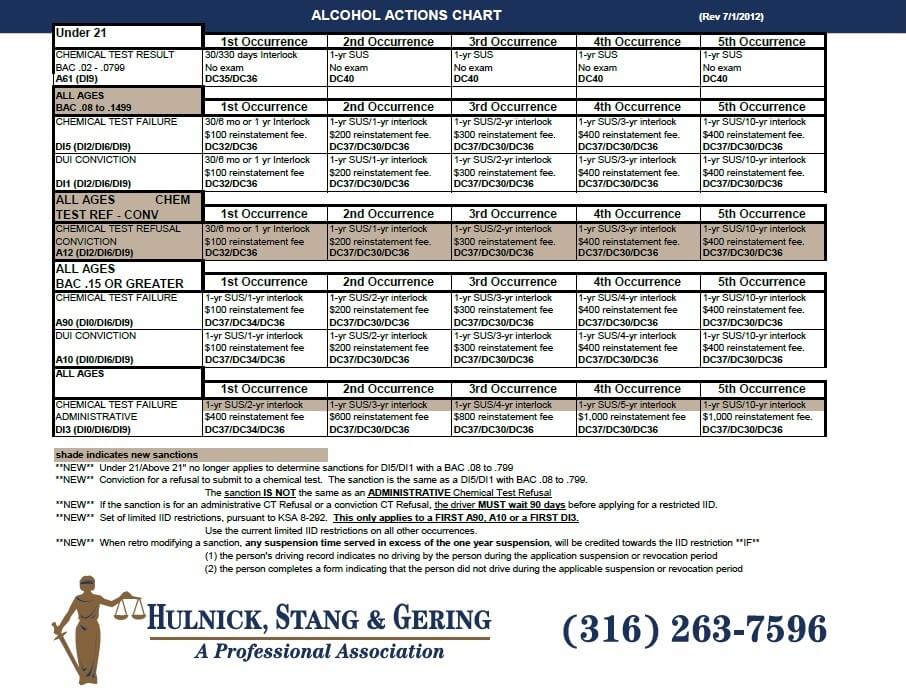 Why Choose Our Experienced DUI Lawyer in Wichita, KS to Defend Your DUI?
With over 80 years of courtroom experience, our team knows what it takes to stand strong in defense of your rights. While you are presumed innocent until proven guilty, defending you against the prosecutor's allegations requires more than just a sincere plea.
You will need to demonstrate how the government failed to prove their case — something with which our firm is intimately familiar. Let us help you find the way through your legal challenges.
Here are several reasons why you should hire our firm:
Our DUI lawyer in Wichita is familiar with the court process and has experience in defending clients against DUI charges.
We can challenge evidence presented by the prosecution to increase your chances of obtaining a favorable outcome.
Our team understands how to negotiate plea deals and other forms of legal resolution such as pretrial diversion or deferred adjudication.
We can help you retain or regain your driving privileges.
We can provide you with peace of mind during what can be an overwhelming process.
Dial (316) 665-7227 or contact us online now to schedule your free consultation with a Wichita DUI attorney.